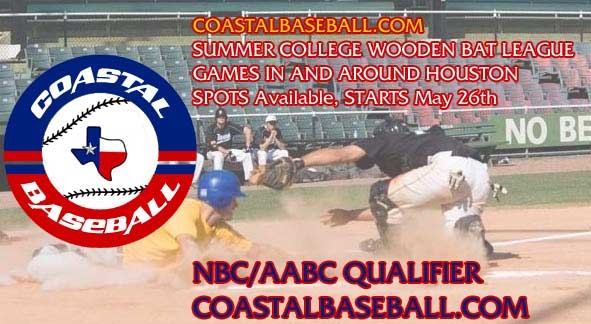 There are four divisions of Coastal Baseball League
Summer College League AABC/NBC runs from May to August sends Champion to Wichita for NBC World Series and to Houston for AABC South Plains Regional. These League plays at MacGregor Park and Coastal Baseball Parks. 4 games a weekend mainly doubleheader formats.
City League 18+ this league plays with wooden bats and has four seasons. These league plays with wooden bats and does not play on Sundays, games are played at MacGregor, South Houston, Pasadena, Eisenhower and the best fields available. -Spring Feb-May -Summer May-July -Fall Sept-November -Winter November-January
Recreational League 18+ this league will begin in Feburary 2012 and will play mainly on Sundays at Coastal Baseball Park. This league is the only league that uses metal bats
Every Season ends with a regular season champion and end of season tournament.
Coastal Baseball hosts three adult tournaments a year March in New Orleans, July 4th in Houston.